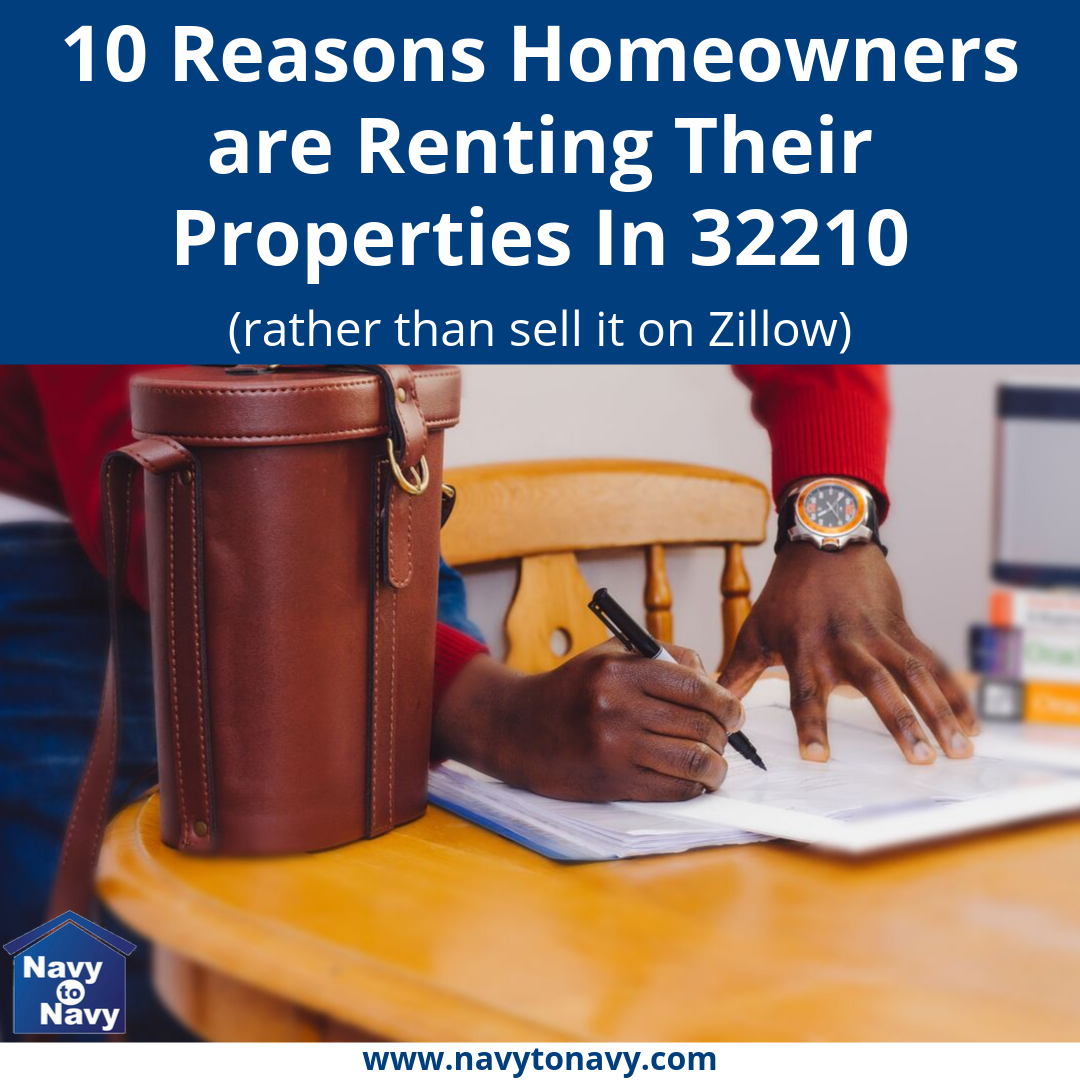 Photo by Adeolu Eletu on Unsplash
Jacksonville Property Management Review: 10 Reasons Homeowners Are Renting Out Their 32210 Properties
From townhouses to single-family homes, Jacksonville's 32210 zip code has a lot to offer renters. If you have a home in this area that you are considering selling, consider these 10 ways to maximize your property as a rental home rather than selling it on Zillow. Occasionally, in our Jacksonville property management area reviews, we highlight areas in JAX with lots of great investment potential. This area is one of them.

With over 3 times the homes for sale in the area verses for rent, now is a great time to offer a good solid rental rather than trying to compete in the coming buyers market.
1. More homes for sale than rental homes
There is a surplus of homes in 32210. At first glance, this may seem like a bad thing if you own a home in this Jacksonville zip code. But as we move into a buyers market, you may find that choosing to rent out your home is a better financial decision than selling right now.
"Despite remaining near three-year lows, mortgage rates have failed to bring enough buyers to the market to rev up competition for homes this summer," said Daryl Fairweather, chief economist at Redfin. "Recession fears have been enough to spook some would-be buyers from making the big financial commitment of a home purchase."
By using a renter to pay down your mortgage while the market shifts, you can increase the equity in your home while possibly pocketing a couple of hundred dollars each month.
This area also boasts a more robust suburban feel with more people per capita than some of the surrounding areas, which accounts for the perceived surplus in homes.
32210 is a large and more densely populated zip code compared to many in the Jacksonville area. Don't let the numbers fool you—this is a great market with almost half the homes being listed as rentals rather than owned by the occupants.
2. Lower than national average rental prices still mean profits for owners
Most of the neighborhoods in 32210 are well below the national average in price, but that is not a reflection of the quality of the homes.
As a homeowner who might be considering using their 32210 property as a rental, you have the advantage of having a lower mortgage based on the median home values in the area. As rental prices increase year by year, your mortgage stays the same. So each year you are making more profit from your rental.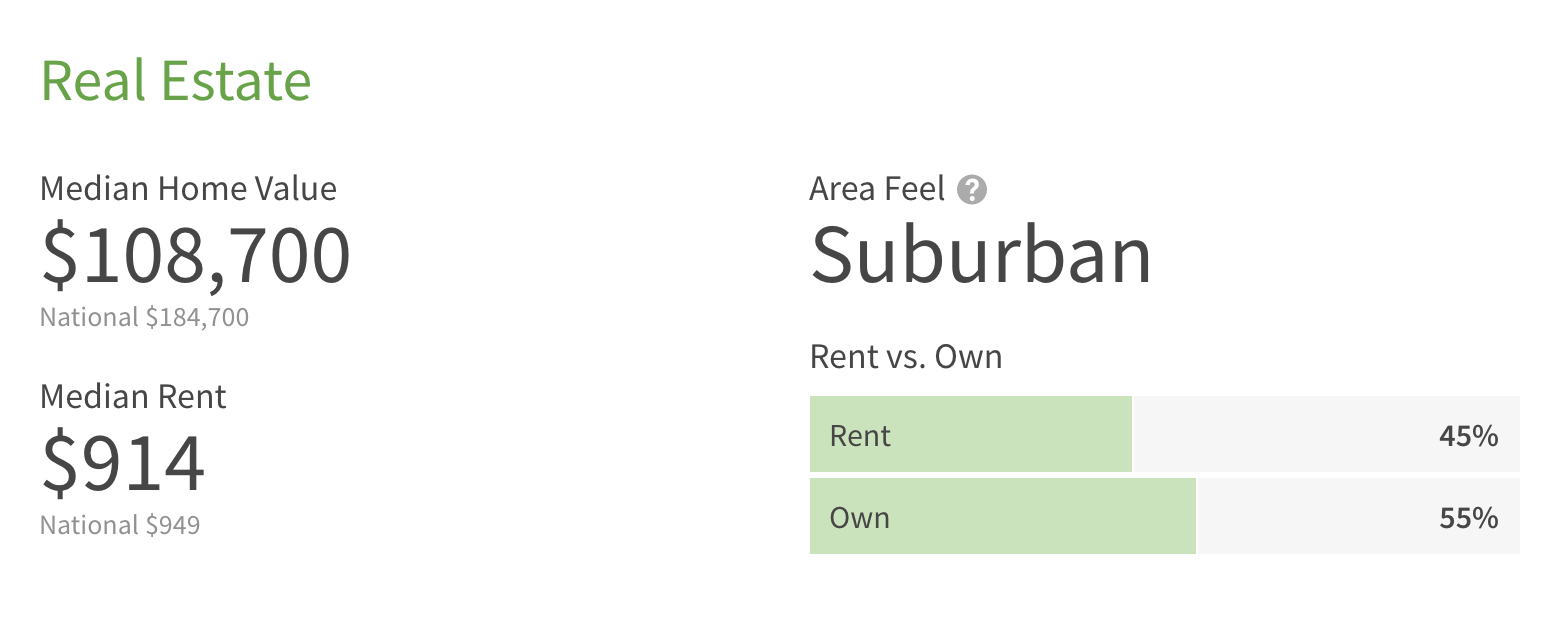 On a home valued at $108K, you could expect a mortgage possibly as low as $600 a month. With rentals going for an average of $900-1,300 in this area, that still leaves $300-700 in gross profit.
If you choose to hire a Jacksonville-based property manager like Navy to Navy Homes to look after your rental, even after paying those property management fees and setting some money aside for maintenance, you are still going to profit each month.
3. Affordable home prices compared to many other JAX neighborhoods
Making an affordable purchase in 32210 can result in a nice profit. If you want to build a real estate portfolio, then this might be the perfect place to purchase a rental investment property.
For example, Cedar Hills to the west of I-295 has many affordable homes for sale with many of them well below the national average price.
Rentals in this area are going for an average of $1,200 per month which means this could be a great neighborhood to buy low and rent at a profit.
Plus, your renters can avoid the higher prices of beachfront homes while still getting easy water access.
4. All the amenities of other Jacksonville areas with a lower cost of living
Have you considered all that your rental will offer someone in the 32210 zip code? With a great central Jacksonville feel and close proximity to the Naval Air Station, homes in 32210 are prime area. With the consistent turnover of military personnel, you can expect to have lots of potential renters vying for your home.
From shopping to boating to golfing on Jacksonville's oldest public course, your renters will not have to stray far from home to find everything that they want or need. There's even a Yacht Club! Not many neighborhoods can claim that.
Located only 20 minutes from downtown Jacksonville, this suburban area is an easy commute if your renters need to be downtown or simply interested in the weekend activities near the water.
5. Ortega River views
Not all of the rentals are below the national average. You can command top dollar for your rental if it is bordering the Ortega River. With its own Marina for boats of all sizes, you could even rent out your boat!
For those who might have a boat or who enjoy the boating lifestyle, Ortega Landing has a safe inland harbor where slips are available for rent and access to the Atlantic is still readily available. Homes bordering can reach the ocean in this area via the St. Johns River.
With very few rentals available, you could get top dollar from your investment in the Ortega, Ortega Farms, or Ortega Forest neighborhoods. Surrounded by water, these higher-end neighborhoods are prime real estate for investors.
6. Freeway and Waterway accessibility
Easy access to I-295 and Hwy 17 make this a prime spot for getting around Jacksonville. A short commute up I-295 to I-10 brings you to downtown Jacksonville in no time. NAS Jacksonville is only a few minutes heading south via Hwy 17.
Your rental could offer the water enthusiast easy access to the St. Johns river and ultimately to the Atlantic Ocean. It is only a short distance to Downtown Jacksonville via the river. This geographical perk gives rentals here an edge.
Centrally located rentals can offer more accessibility and bring in more renters. Not everyone wants to live at the beach. With rentals in 32210 you can cater to those who want a more urban feel.
7. Diverse population means diverse housing needs.
Niche.com gives 32210 an A for diversity. With everything from apartments to mobile homes, there is something for everyone in this zip code.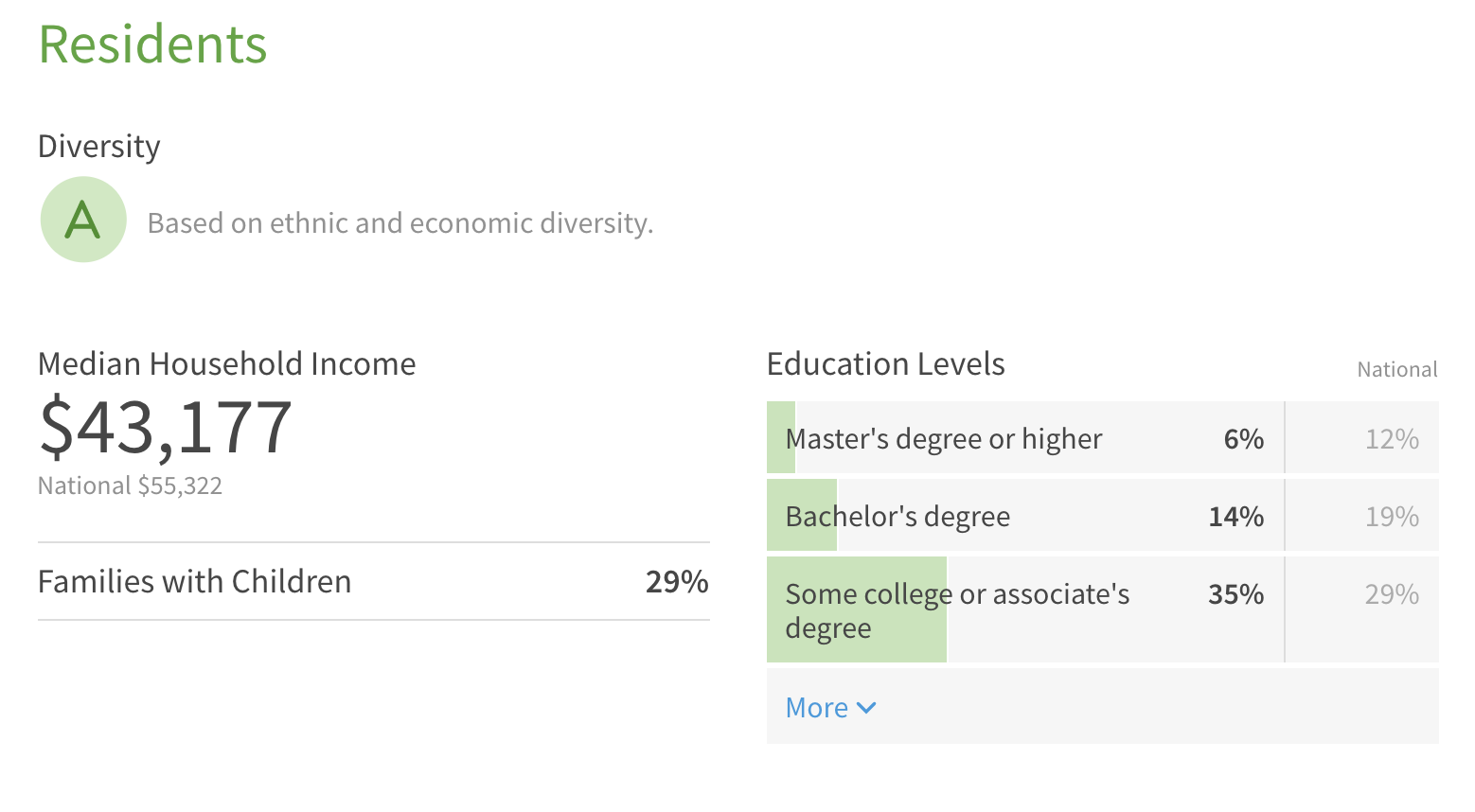 Rentals range from $575-$3,000 in this zip code. That is quite a difference, and is dependent on what your home has to offer and the exact location. A smaller rental with good good curb appeal is just not going to fetch as high a price as the waterfront views of Ortega or the Ortega Forest neighborhoods.
There are few rentals available in the Ortega areas. For example, the Ortega areas are primarily owner-occupied and at a premium price point. The average home cost in those neighborhoods is around $352,000. If you can swing that kind of investment, this is a great place to have a home to rent. Not everyone wants the long term commitment of homeownership so this could be a great opportunity to invest in a more expensive rental.
The good news for owners is that it takes all kinds of properties to please all kinds of renters. The suburban feel of this zip code is perfect for family housing. There are also a variety of apartment complexes to fit a variety of needs.
8. Consistent rental price increase year to year since 2011
Slow and steady wins the race! When looking at rental markets, you want to see a steady increase in rental rates rather than dramatic changes. This means that over time you can rely on your rental as an investment.
By offering a fair rental price with a well-maintained home, you can keep quality renters and take advantage of increasing rental profits for your Jacksonville rental home.
"As of April 2019, average rent for an apartment in Jacksonville, FL is $1232 which is a 10.23% increase from last year when the average rent was $1106," according to Rent Jungle.

In the example above, you could be making an additional $126 per month since this time last year. Because your mortgage payment is not changing, you are adding to your profits month by month. That is over $1,500 more than last year that your rental is earning for you.
9. Big zip code means more renters
This area seems to have a higher number of rentals available, but those numbers can be deceiving. When compared to other nearby zip codes the numbers average out due to a higher population density than its surrounding neighbors. This can be attributed to the proximity to the Naval Base or just to the large size of this zip code.
The rentals available are twice as many, but so is the population of the zip code. This area caters to homeownership rather than jobs. You will find everything from low-cost mobile home parks renting at the same price as a single-family home.
Compared to other zip codes, 32210 in Jacksonville is a large area with diverse rental options, easy access to job-central areas, and the area is family-friendly.
10. Proximity to NAS Jacksonville
This area has it all: beach, river, tons of outdoor activities, and proximity to NAS Jacksonville. The only thing that can top that proximity is affordability.
By keeping a rental in JAX's 32210 zip code, you are positioning yourself to offer your home to military personnel who want to be close to the base. This short distance saves both time and fuel costs.
With a variety of housing options and price points, you can fill the needs in this area for almost any rank. Keeping soldiers close to the base makes their lives just a little bit easier.
Another thing to keep in mind about the base: There are always new families coming to the area looking for homes. Offering clean, family-friendly rentals to military personnel can help keep vacancy times low and a steady stream of renters high.
This zip code really offers something for everyone. Want waterfront views and a yacht club? Here.

How about a public golf course right around the corner? It's here, too.

With its proximity to NAS Jacksonville and Downtown, you can get to most of Jacksonville in under 30 minutes.
Whether you want to rent or sell your 32210 property, Navy to Navy Homes has a solution for you.

As one of the top Jacksonville property management companies in JAX, they can help you with finding the perfect rental or the perfect renters.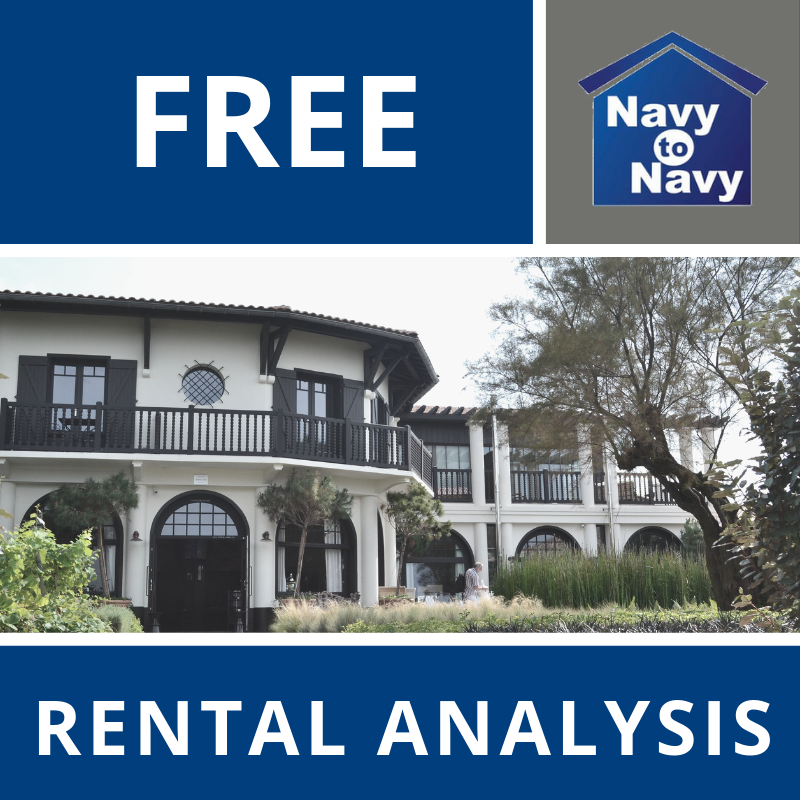 Navy to Navy Homes
4540 Southside Blvd, Suite 702
Jacksonville, FL 32216
904-900-4766