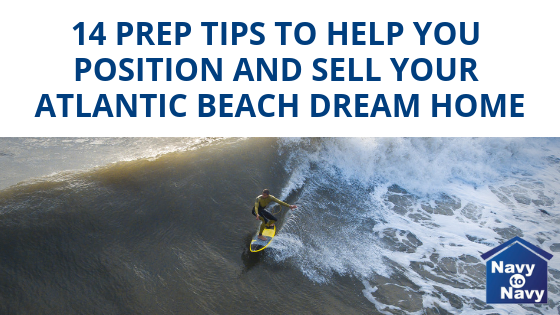 Your Atlantic Beach home is beautiful, set up just the way you like. It was your dream home. The decor is a wonderful reflection of your personality and style. All that said, you have decided to move on.
When you are putting your luxury home on the market there are many things to consider. You know your home and probably have some favorite features. A real estate professional, on the other hand, knows what features the buyers will be looking for.
There are some things that you need to consider when getting ready to sell. Put yourself in the shoes of the buyer and you will get into the mindset necessary to have a great experience.
1. Price The Home Right The First Time
Hiring a team to dive deep and research your home and area will get you a higher price. Anyone can look over neighborhood comps and get an idea of what an average home in the area has sold for.
Having an expert showcase the unique features of your home will get a more accurate price where the value is supported by the features.
You recently updated your sunroom. It's gorgeous! And while you may see that updated sunroom as an asset, boosting the value of your home, the buyer may now see all the other rooms that need to be updated...
Your home needs a personalized approach, not just a "neighborhood comp".
A professional realtor will know the market fluctuations and can help you position and price your house to sell within the needed time frame.
2. Effective Marketing
It's not 1990. A flier and yard sign will not sell your beach house.
This is a time for pulling out all of the stops to maximize your return on investment.
Being on the beach will attract buyers on its own, but you must be strategic. You are appealing to a specific group when selling a beach home.
Your realtor should have a comprehensive marketing plan in place including professional photography and pre-listing avenues.

Want to dig in?

You can look at realtor listings on Zillow.com and Realtor.com for comparable luxury homes in your market.

Review the photographs of the home, and review the Days On Market averages for each realtor.

Homes in the luxury market generally have longer Days On Market numbers than non-luxury homes, but you should be able to quickly identify the realtors who excel in marketing luxury homes based on their track records.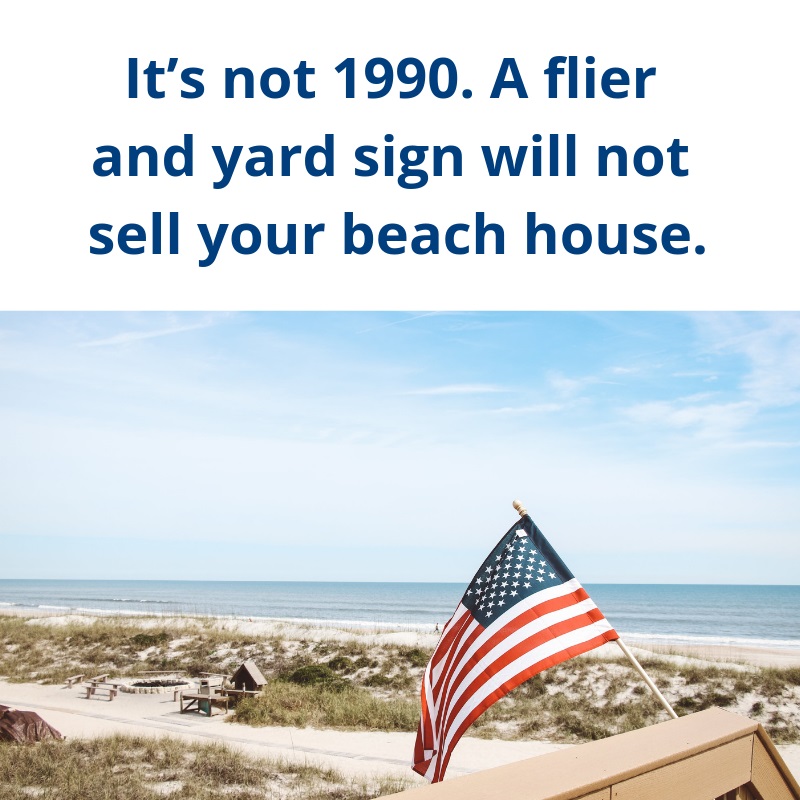 3. Photos - Videos - Virtual Tours
Hiring a professional will be worth the price when it comes to showcasing your Atlantic Beach home. Not all of your buyers will be local and available for an in-person showing.
You want potential buyers to be able to not just see a floor plan and still photos.
The people who purchase your home may not live anywhere near Jacksonville, FL.
You need a team that can help potential buyers to see the beauty of your home, even from 3,000 miles away.
A video is great, but a full virtual tour will allow viewers to walk through your home from anywhere in the world.
With the addition of a drone video of the entire lot, your beach-views can make a stunning statement to someone considering your space.
Other potential features: floor plan mapping, and pre-listing emails to a warmed up audience can help you get top dollar for your luxury beach house
Do not neglect your outside spaces.
Many times, your potential buyers will be viewing your home late at night on a computer, phone, or tablet.
You want to entice them to view the home in person.
You want the best photos of the exterior of the home and the yard to be featured prominently since they will be the first thing that greets potential buyers.
Have a pool home? Check out our post on "How To Photograph Your Jacksonville Pool House To Sell: [Study] 8 Jaw-Dropping Luxury Pool Homes For Sale in Jacksonville, FL"
4. Stage Every Room
Your luxury Atlantic Beach home deserves top-notch staging. Let's face it, if the house does not look like somewhere people want to live they will not buy. Would you?
Forbes and the National Association of Realtors have data that supports
"for every $100 invested in staging, the potential return is $400. A staged home will sell for 17% more on average than a non-staged home, and 95% of staged homes sell in 11 days or less. That is statistically 87% faster than non-staged homes."
Coldwell Banker notes,
"home staging has transitioned from an add-on service to an expected part of a luxury homes marketing program, the expectations have increased, and so have the offerings."


This is not a place to skimp.
You will not put your home in the best light if you only do half of the job.
Beautiful kitchens, living rooms, and master bedrooms may be selling points, but they are not the whole package. It is worth your time to make sure the office, spare bathrooms, and guest rooms are just as appealing.
Mansion Global makes a good case that staging is a necessary expense.
At the lowest end, when staging for a home that's $500,000 to $750,000, the typical fee is $3,500 to $5,000, which includes the design, installation and three months for furniture rental.
After three months, the monthly rental fee is 10% of the initial charge—in this case, $350 to $500 per month—until the furniture is returned.
5. Neutral Colors
White Orchid Interiors suggests going neutral as a rule. Maintain color neutrality throughout the space to allow prospective buyers to visualize themselves in the home. Prospective home buyers are likely to be turned off by vibrant hues.
Dark walls and ceilings can make a room seem small or confined. Your love for bright colors may not be everyone's cup of tea. The neutral colors can create a pallet that people can imagine themselves customizing and living in.
6. Lighting
Dark rooms can feel small or uninviting.
You will want to do a daytime and nighttime audit of the space to see if there are places you could improve lighting.
TIP: A quick way to compare your lighting is to take pictures morning, noon and evening to see how the rooms change with the current lighting. You may find that there is room for improvement in some areas.
If you have dark walls, ceilings or furniture consider adding extra lighting and making sure you have the brightest possible bulb for your fixtures.
If the fixtures are outdated or wrong for the space consider the option of replacing them before your interior photos are taken. It could be a small cost for a big impact.
Don't forget exterior lighting.
Solar path lighting is a quick way to make an impression at night. Make sure if you have accent lighting at night that professional photographs make the most of the dramatic effects.
7. Accentuate Unique Features
Do you have the biggest pool or an entryway waterfall?
What are the unique things that make your house special even amongst Jacksonville, Florida's best?
Knowing the features of the homes around you will allow you to point out the parts of your house that set it apart.
Because Atlantic Beach IS a focal point, you will want to capitalize on your location.
Consider the area as part of your home.
Make sure you showcase Atlantic Beach as one of the highlights of your home's appeal and its many amenities.
8. Make Sure The House Is DEEP Cleaned
You might be known for having a super clean kitchen in your social circles.
Your guest bath might always be neat and well stocked.
But this is time for a next-level cleaning.
A professional service can come in and make sure your grout and baseboards shine - making an impression on discerning buyers or their representatives.
9. Curb Appeal - It Isn't Just The Grass
Don't forget the yard. The first thing your potential buyers will see as they pull up is your yard.
The small price of a good one time clean up by a landscape firm can set the stage for a wonderful first impression. If any of your plants or trees are looking a little sad you may consider having a few flower beds refreshed or replanted.

Many of your buyers will form their initial impression not just from the outside of your home, but from the photos they first see on the internet.
The outside and yard areas of your home need to be showcased there as well.
10. Oooh, That Smell
Just because you love a specific scent does not mean that a buyer will. We tend to go "nose blind" in our own space.
Your love for garlic and onions may permeate your kitchen and you don't even smell it anymore. The master bedroom may smell of the signature fragrance that your husband buys you every year. These are things we easily get used to and simply may not notice.
Your home selling team will be able to point any scents you overlook and suggest a fresh clean, neutral fragrance that will not draw attention away from the homes overall aesthetic.
Some of this will be reconciled by the deep cleaning as well.
11. Extra Incentives
Do you have art that was made for a specific space that won't fit your new place? How about a safe too big to move? Is there a built-in sound system and home theater that will be staying part of the home?
Any of these things that you take for granted may be incentives for buyers to purchase your home over another. Depending on the items, they may not just increase interest but also the overall value of the property.
Be sure to check with your property stager first, to make sure that something you view as an asset, will not be a burden to potential viewers.
12. Gather Your Paperwork
Before you put your home on the market make sure your mortgage documents and any other paperwork is in order.
Do you have blueprints for your beautiful custom home?
Tech manuals for appliances, product warranties, pool instructions, any remote logins, and a list of local resources will help your homebuyer make a seamless transition.
If you in an older home, you may have the opportunity to pass on some history of the home or the area to the new owners.
Any historical information on when replacements or upgrades were made can help a new owner plan for their future.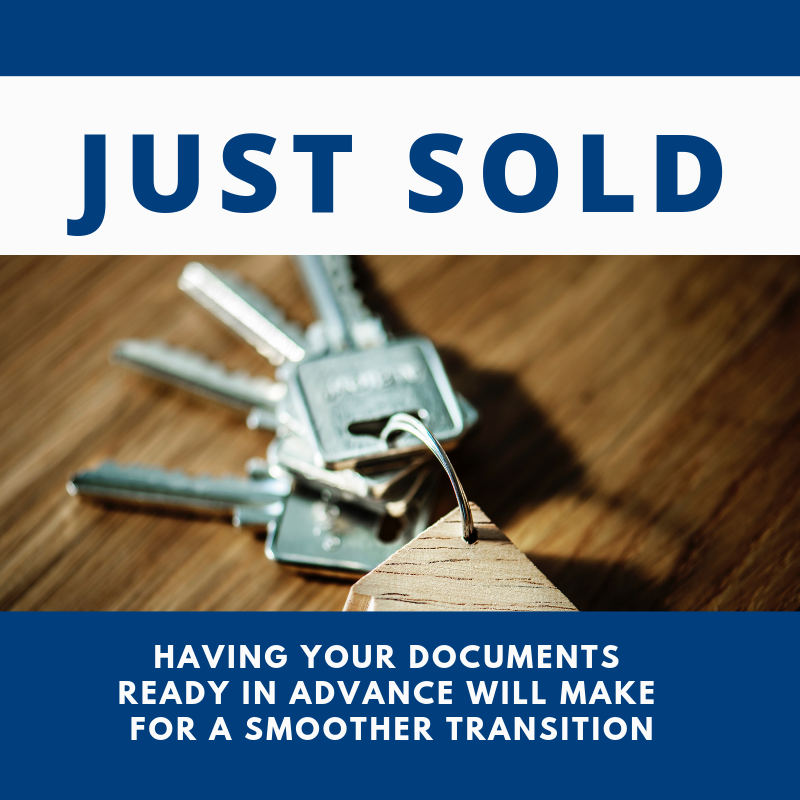 13. Put Away Or Remove Valuables/Fragile Items For Potential Showings
In a perfect world, you will have 24 hours or more to get ready for a showing.
But let's be real. Your beautiful beach home could get the attention of not only local but foreign buyers. A situation may arise where someone flies in to look at only a few homes and yours comes to their attention.
Are you going to miss a potential sale because you are short a few hours to get ready?
Having all of your personal and valuable possessions already stored away for safekeeping will make your job of a quick clean up exponentially easier.
14. Hire A Professional
Last, but certainly not least, make sure you have the right team helping you through the selling process. You and your home deserve the best.
Read reviews, ask friends, and interview potential realtors or teams before making a final decision.
About Us
Navy to Navy homes is a professional real estate company based in Jacksonville, Fl.

This Veteran owned and operated team was founded by a 24-year retired Navy Pilot, Mario Gonzalez, who serves the Jacksonville area with almost two decades of real estate experience.

Navy to Navy is a full-service real estate brokerage that specializes in property management, sales, and relocation services for military families in the Jacksonville area.

While we focus on helping and serving our community's heroes, we love to help Jacksonville area citizens as well.


Our friendly and personal staff will provide unparalleled customer service to you, whatever your real estate need may be. We are here for all of your Jacksonville area real estate needs.

Interested in learning more?

Get your home's Free Home Analysis Report to get a starting point idea of what your home could sell for.