Want to know one of the best ways to make your rental property instantly more appealing without lifting a finger? Be pet-friendly.
While pets can and do make a mess, allowing tenants to have pets means happier tenants.
(No, really! It's true!)
And happier tenants mean better tenants.
See, the availability of pet-friendly abodes is small. By being a pet-friendly property, you become an immediate rock star for prospective tenants.
For you and your property, this means low vacancy rate and a high tenancy rate—and that means more money in the bank.
Plus you can bypass tenants sneaking in their furry friends (who could cause property damage anyway) and skip straight to a rental agreement with a legally enforceable pet addendum.
Check out our list of 18 ways to have a pet-friendly rental while still protecting your home.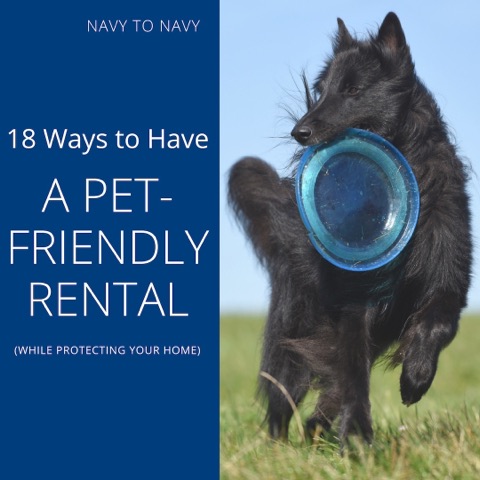 #1 — Require Proper Identification, Licenses, and Vaccinations
Make sure everything is up-to-date. This will ensure everyone stays safe and you can avoid unnecessary litigation.


#2 — Have both a standard pet deposit and a damage deposit in place.
Not only will this protect you, tenants will pay (fair) premiums to keep their fur babies with them. Wear and tear is normal; these deposits keep the bulk of responsibility on tenants.
If pets have been in the home before, be sure to give your carpets and padding a thorough cleaning. Have an honest friend or family member tell you if there's a distinct odor. Know your carpet's condition before renting. Be fair with renters—accidents happen and that's why you collect security deposits—but don't get suckered with the ol' "it was like that when I got here" line.
#4 — Consider changing up your flooring.
Carpet might be cozy but alternative flooring options like tile or hardwood are easier to clean and maintain. Seal your floors with polyurethane to minimize odor absorption and provide easy clean up for both tenants and you.
#5 — Protect your walls, doors, and windows.
Use semi-gloss, high-gloss, or satin paints to make your rental walls easy-to-clean surfaces. Keep the walls texture free to help minimize pet temptation to chew or scratch. Add Lucite panels to doors and windows to drastically reduce scratches from excited fur tenants.
#6 — Interview the pet, not just the tenants.
While Joe Blow may be a great fit for your home, his dog might be an unholy terror. Have a face to face interview with both. Check reactions, behaviors, and general manner and attitude before agreeing to let Fido stay. But also make sure that Joe Blow acts like a responsible pet owner during the interview as well.
Someone who doesn't treat their pet well will not treat your property well, either.

#7 — It's OK to be choosy on what animals are allowed in the home.
Restrictions on type of pets, breeds, number of pets, and size/weight are acceptable. Be sure to check with your insurance in case there are any potential "do not allows" on their list that could invalidate your insurance. Keep in mind Emotional Support Animals are an exception to insurance rules.
#8 — Require cats and dogs to be spayed/neutered.
Having an animal desexed will cut-down on potential mess, late night mating calls, and improve general amiability of the tenant's pet.
#9 — Include your pet policy in your lease agreement.
Whether tenants are coming in with a pet or bring one in later, your terms and conditions are clearly laid out and the tenant has agreed to them. Keep in mind: If you update your lease agreement and/or pet policy, provide an updated copy to your tenants ASAP.
#10 —Require renters insurance
Just in case a pet damages the property—or worse: attacks someone—, requiring tenants have renters insurance will lower the chance of litigation and save out of pocket expense for you.
#11 — Landlord liability insurance
Whether renting to pet owners or not, having landlord liability insurance will keep you and your property safe even if you're on the other side of the world.
#12 —Make sure the rental agreement places liability for damages on the pet owners.
Not only does this protect your flooring and the rest of your property, this protects your sanity.
#13 — Perform annual reviews of the property.
This helps to determine what damage may have been pet made and allows you to nip it in the bud before it can become a bigger, costlier repair later on.
#14 — Wellness records from the vet
Because illness can sometimes cause a lot of mess, see what health condition potential fur-tenants may have that could make them incompatible with your property.
#15 — Emotional Support Animal? Be sure to verify!
The Fair Housing Act (FHA) protects people with disabilities, which also protects Emotional Support Animals. Refusal to accommodate an Emotional Support Animal carries huge repercussions such as hefty fines and legal action. Thankfully, these animals require paperwork to back their Emotional Support Animal status. Most people will register there animals through a website such as US Service Animals.org
#16 — Set up a "pet potty" for pets that do their business outdoors.
Not only will this make clean up a snap for tenants, this will help protect your yard. Win-win!
#17 — Be specific in pet care requirements and property maintenance expectations
Set a certain number of hours an animal can be outside as well as how many hours unattended. Take into account weather conditions and write those into your pet addendum.
#18 — Talk to previous landlords.
While there's a lot of important info to collect from your tenant and their pet, talking to their previous landlords is paramount.
Considering renting out your house?
See how much you could be making with our Free Rental Analysis report.

Tailored to Jacksonville, FL, and its surrounding areas, this report gives you the deep dive into the Jacksonville rental market so that you can price your home accordingly (just don't forget to include those pet fees!).
Get the best doggone tenants and rental income possible and let us help you today!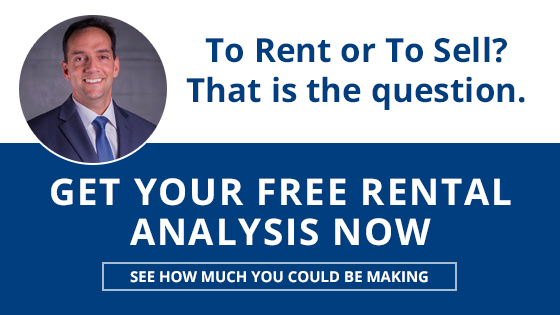 Navy to Navy Homes
4540 Southside Blvd, Suite 702
Jacksonville, FL 32216
904-900-4766