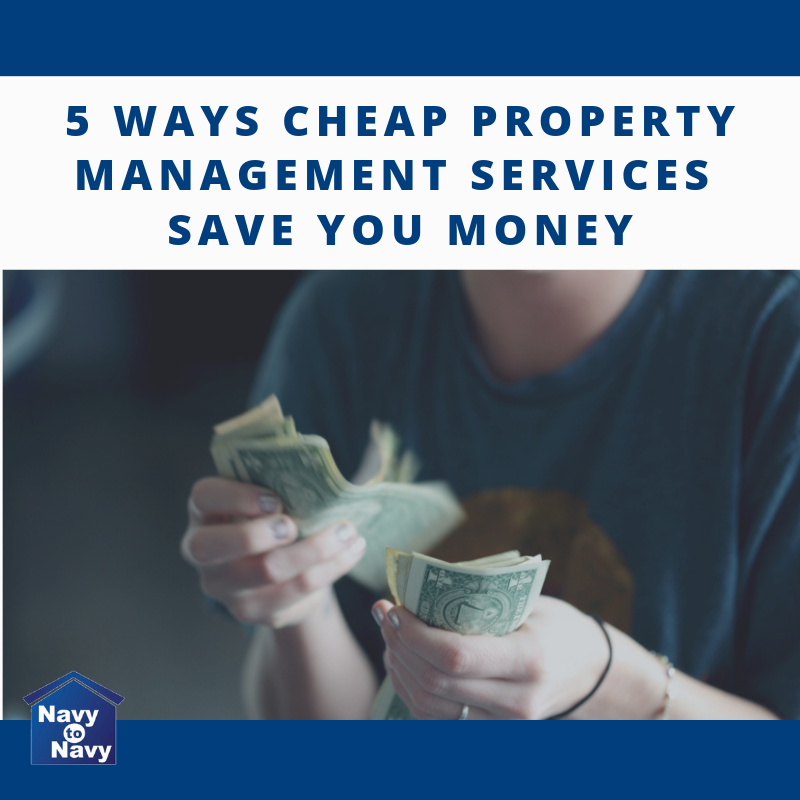 Photo by Sharon McCutcheon on Unsplash
"I definitely want to spend way more money than needed and get less," said no one ever!
Budget conscious? You should be.
After all, a rental property is an investment property.
You want to make some return on that investment.
When it comes to hiring a property management company you can definitely go the budget/economy route.
You might even save money if you pick the right lower end property manager.
Let's take a peek.
Up front costs (Building code? What code?)
Scenario:
Your property manager didn't inform you of mandatory code regulations for renting a home in Florida OR they didn't enforce/require that your home be up to code before taking on management of the property.
"We don't need no stinkin' code!!"

Seriously, will anyone ever know that you are missing one window screen and 3 smoke detectors?
What could possibly go wrong with insufficient smoke detectors and that renter who loves candles AND oil burners AND owns 3 cats AND 2 dogs she didn't reveal on the lease?


Do you have screens on all of the windows and the right amount of smoke detectors?

What? That other property management company didn't tell you that was a thing? It's okay, you don't really need to be up to code. Who's going to know? (Just kidding...)



Are those bedroom windows in good working order in case of an emergency? Your windows must open easily for someone to safely use them to get out if there is a problem.


But you don't worry. Worrying is not your style. You are a rule breaker, a rogue (or in this case possibly criminally negligent).

That is what makes it all so exciting!! You're saving money!
Rules:
The rules for smoke detectors are simple:
1 per bedroom

1 outside of each group of bedrooms

1 per level in the home.

If they are NOT wired into the electricity of the home, they must be the tamper-proof 10yr lithium-ion battery powered.
According to FlaLandlord.com, "As outlined in the Florida Building Code, starting in 2015 homeowners and landlords must install 10-year, sealed-battery smoke alarms when replacing outdated or non-working alarms or installing new ones."
Drawback:
If your rental is not up to code and a complaint is filed there may be penalties to pay. When you are looking to rent out your Jacksonville, Florida home you can expect that a few things will need to be ready for your renters.
A seasoned, licensed property manager can help guide you and show you what needs to be done to get your property rent-ready without breaking the bank.
How much that costs out of your pocket can really vary home to home.
You will not have the same expenses in a 950 sf condo as you would in a 3500 sf waterfront beauty!
Estimated Savings/Loss:
$100-$250 in screens (because you didn't know)
$50 per smoke detector times 3 (just because I get to pick the imaginary number)
Total Savings/Loss: $300-400 Savings (before the Code Inspector assigns warnings/penalties/fines)
Solution:
The right property manager will know local codes and be able to educate you on any gaps. An inspection by a third-party company may be necessary to finalize the agreement.
Scheduled Inspections
Scenario:
Your budget-friendly project management team doesn't offer regular third-party inspections.
Your renters will be perfect!!
Six months into the lease with your tenants they will NOT get the dogs they specifically told you they wouldn't get. (I mean, no one sneaks in cute little pooches, right?)
Nor will they let their 3 friends move in with them and live in the garage when things get tough and their friends get evicted from their place.
They would NEVER do that to you.
No, your tenants won't do that.
They're amazing! (You met them, and they seem like such nice people!)
And they definitely won't allow a "cute little alligator" to take up residence in your backyard.
Estimated Costs:
In the event of a broken lease agreement, extra people, or pet damage...
Property Damage $250-1000 depending on how many people (or pets) are living in your garage
Eviction Processing: $200-800
Lost Rent: (Because they're definitely not going to pay when you serve them a notice)
$600-800 (within 15 days)
+ $1200 (1 month's rent from time the property is vacant - time for repairs)
Total Expenditures: $2250 - $3800 plus your time to coordinate all the repairs, file the evictions, etc.
By Comparison:
Cost of Standard Property Management with Navy to Navy Homes (which includes regular, third-party inspection services): 10% of rent, monthly

On a $1200/month property, estimate $120/month fee, which includes everything in the Standard Package.

For a standard 12 month lease, you'll pay around $1440 annually in management fees - which includes your regular inspections and coordinating any repairs.


Cost of Platinum Property Management Service with Navy to Navy Homes with Eviction Protection (everything above plus protection in the event of needed eviction): 10% of rent, monthly plus $19.95/month

On a $1200/month property, estimate $120/month fee + $19.95/month, which includes everything in the Platinum Package.

For a standard 12 month lease, you'll pay around $1679 annually in management fees - which includes your regular inspections, coordinating any repairs, collecting rent, paperwork, and eviction protection.
Drawback: By not performing regular inspections and maintenance you run the risk of missing a potential issue that could have had an inexpensive or fast remedy.
Just having your HVAC inspected and properly maintained could save you from a catastrophic failure resulting in replacement. (You should estimate $3000+ for HVAC replacement.)
If you have relocated out of the area, you will not have the option to swing by and take a quick look at your investment.
There is some security in knowing that your home will be checked over on a regular basis by a professional, accredited, and highly-rated property management company
Estimated Savings/Loss:
If you never have ANY issues (you're the person who scratches off the winning combo on every gas station lottery ticket - no problems for you!):
Expect to save around $132/year in management fees if you decide to go with the budget property management company with a 7% fee per month (based on average rental price of $1200/month).
However, if you are like MANY of the landlords we regularly rescue...
$3000 Average in costs from property damage, evictions, lost rent, etc.
- $132 Standard Property Management Package
-------------------------
Total Savings/Loss: $2868 LOSS
(Missing out on those regular inspections can be like rolling dice when it comes to your investment property.)
Solution:
Use Navy to Navy Homes to get access to our third-party home inspection company at a discount! We set you and your home up for rental success.
Your home will be inspected before occupation, at the 6-month mark and when the renters move out. Having consistency in your inspections means things will not get missed.
There will be no part of your property that falls through the cracks. (Unless it is a Florida sinkhole, then it could be the whole house.)
24-hour on-call emergency services
Scenario:
Emergency. The toilet is clogged and overflows. Attempts to use a plunger are futile.
Nothing bad EVER happens after midnight, or on the weekend, and definitely NEVER on a holiday.
Every homeowner loves an unexpected bill! Don't you just love an unplanned expense?
Mario from Navy to Navy had this to say about what you need to have set aside for those emergency repairs,
"The average property in Jacksonville sold last year was $225,000. So that would be $2250 a year that you should put in your mind for annual expenses.
If you annualize that and break it down per month, you should set aside about $187 per month.
Nobody thinks about that. They think they can just keep $500 bucks aside. Well, sure, you could...but the general rule of thumb is 1%."
If you are surprised with a last minute emergency plumbing call, even if it is not after hours, it could eat up hours of your day finding a professional available to check it out for you.
Nothing to see here. Just a good ol' emergency plumber.
Estimated Costs:
According to This Old House, "For a plumber specializing in drain-clearing services, expect to pay at least $70 per hour for drain lines and $125 per hour for sewer lines."
That is $70 per hour just to clean out a drain line.
That $187 mentioned above is gone in under 3 hours of work.
And you are not just paying for the time on site.
They are often charging for the drive to you, the trip to get parts (because they never have that one they need for your job on the truck) and the parts themselves at an increased (markup) rate.
Drawback:
You will not likely get the peace of mind of a 24-hour on-call maintenance person to swoop in and fix that pipe or AC in the middle of the night.
You will be out on the lawn with a flashlight digging a hole to figure out where all that water is coming from. Sounds like a great Saturday night to me!!
Even better...It might not be water! Nothing says 4th of July like a sewer backup!!
Estimated Savings/Loss:
If your budget property management company doesn't have a maintenance person on staff you won't pay for it! (Hello savings!)
Since most budget property management companies charge around 7% of monthly rent, you'll save around $36/month in management fees on a $1200/month rental property.
Total Savings/Loss: $36/month savings or $432/year
But, you will also pay a premium rate for that non-staffed, non-negotiated midnight emergency call, which may wipe out or wash out your $36/month savings.
A single emergency plumbing visit could cost DOUBLE the normal rate.
For a two-hour job (typical, including drive time, etc.) - expect a labor rate of $200-$250.
Good news, right?
You do NOT want to have an experience like this renter did...
Solution:
By hiring a property management company that can handle those midnight calls you can rest easy wherever you are.
No more added stress to your daily life or to a vacation worrying if something will come up with your JAX rental home.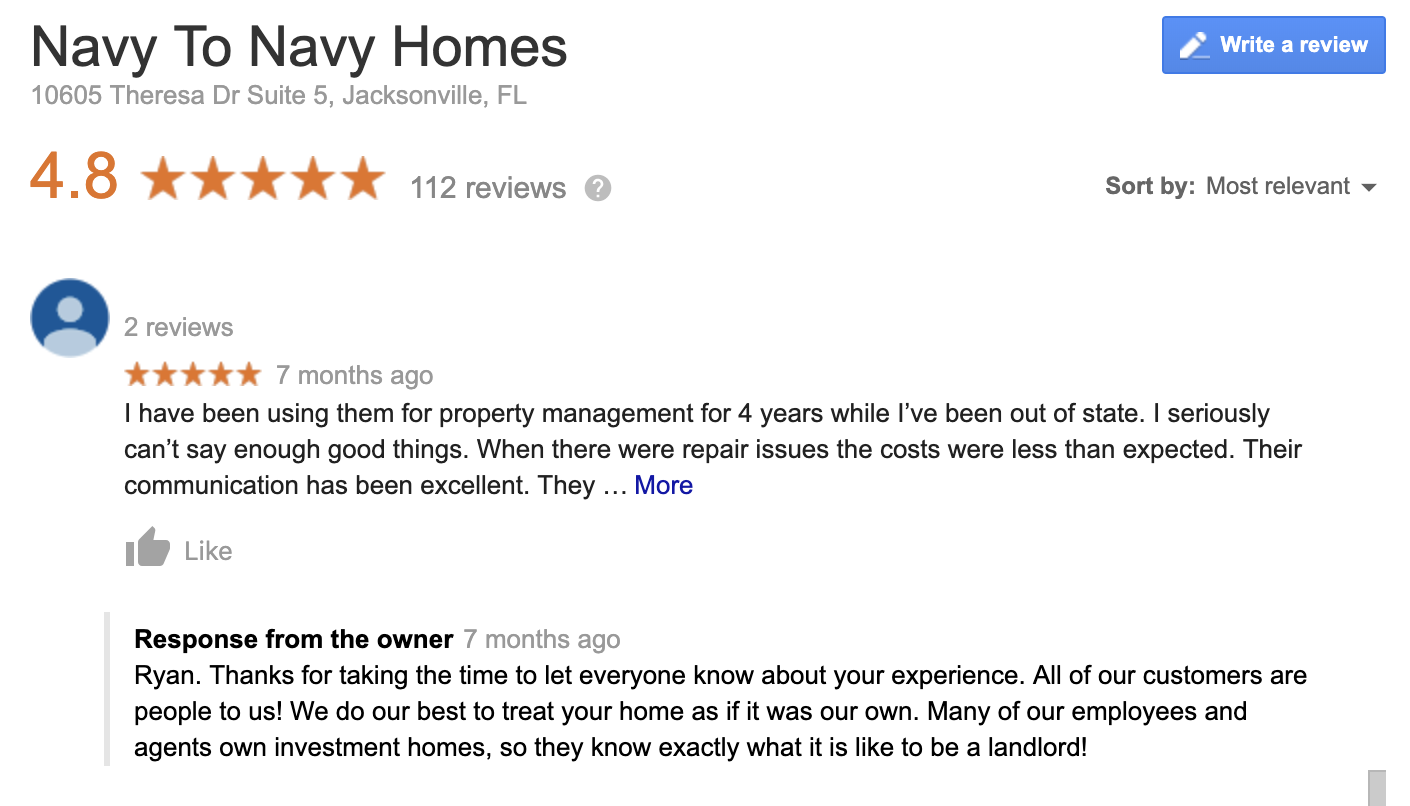 They got you a renter, now what?
Scenario:
You decided to save some money and not pay for full property management services. You really just want someone to screen and place a good (hopefully) tenant.
You are going to save so much money every month by managing your rental yourself.
Why pay a property management company to collect what is already owed to you each month?
It is so much easier for you to just get your rent directly from your renters.
The discount property management company offered to place a "great" tenant in your home for less.
Money in your pocket!
Running across town while your tenants dodge your call is way less stressful than paying a monthly management fee.
But oh no.
What are you going to do if you need to evict them?
Estimated Costs:
Let's estimate time/gas/hassle to collect rent from negligent tenants.
Hours of time collecting rent: 3-4 hours/month - phone calls, emails, text messages, letters, driving to pick up the rent...
On the low-end, estimate your time to be worth about $20/hr.
You're currently spending about $80-100 in a non-renewable resource - time.
Now add in gas and vehicle wear and tear (Let's just say $20 a month, based on make/model of car, etc.)
Total Costs: $100-120
Drawbacks:
Um, did I mention the driving all over town?
How about the chasing people for the rent?
Do you really want to to give up time with your family to sit in traffic or waiting around hoping to get your rent?
Maybe your more hands off. You don't drive all over town.
Maybe you just call 1x a day for 5-10 days in a row before moving into the eviction process.
5 minutes x 10 days = 50 minutes (almost 1 hour)
Trip to local county center to file necessary paperwork (drive time plus application) = roughly 1.5 hours
Follow-up processes = 1-2 hours
Changing all locks and cleaning property from poor upkeep (because you know once they knew they were getting evicted, they really deep cleaned the bathtub for you before they moved out)
Etc…
Episodes like these can really turn into stress-filled nightmares for some homeowners.
What about the rental deposit?
Do you have the security deposit safely tucked away in an escrow account per Florida law?
Are you fully aware of the laws that pertain to evictions in Florida?
Estimated Savings/Loss:
With Navy to Navy Home's Standard Property Management Package, the monthly fee for a property renting for $1250/month is 10%, or $125/month. This includes rent collection services.
Total Savings:
$125/month
-$100/month (your time, wear and tear on your vehicle, gas)
--------------
Total Savings/Loss: $25/month savings or $300/year
Hopefully, this amount of stress at rent collection time isn't a monthly process for you. Otherwise you'll spend that $25 finding ways to relieve stress!
Solution:
Letting a pro do the monthly tasks like collecting the rent and holding security deposits in escrow per Florida law means a seamless process from renter to your bank account.
Worried about potential evictions? For $19.99 a month you can have peace of mind and let Navy To Navy Homes handle that for you with their Eviction Protection Service.
Per Mario, "A standard eviction in Florida costs between $700-800 if you are not using a property management company that is tied in with an attorney. Our costs are a little under that because we are affiliated with an attorney who specializes in Florida eviction law. Most property owners will be very hesitant in pulling the trigger for an eviction. It takes about 30 days for a normal eviction.
A lot of homeowners will want to hold off hoping that their tenant will get caught up. With Eviction Protection, there is no benefit to doing that because the $700-800 is covered by Navy To Navy."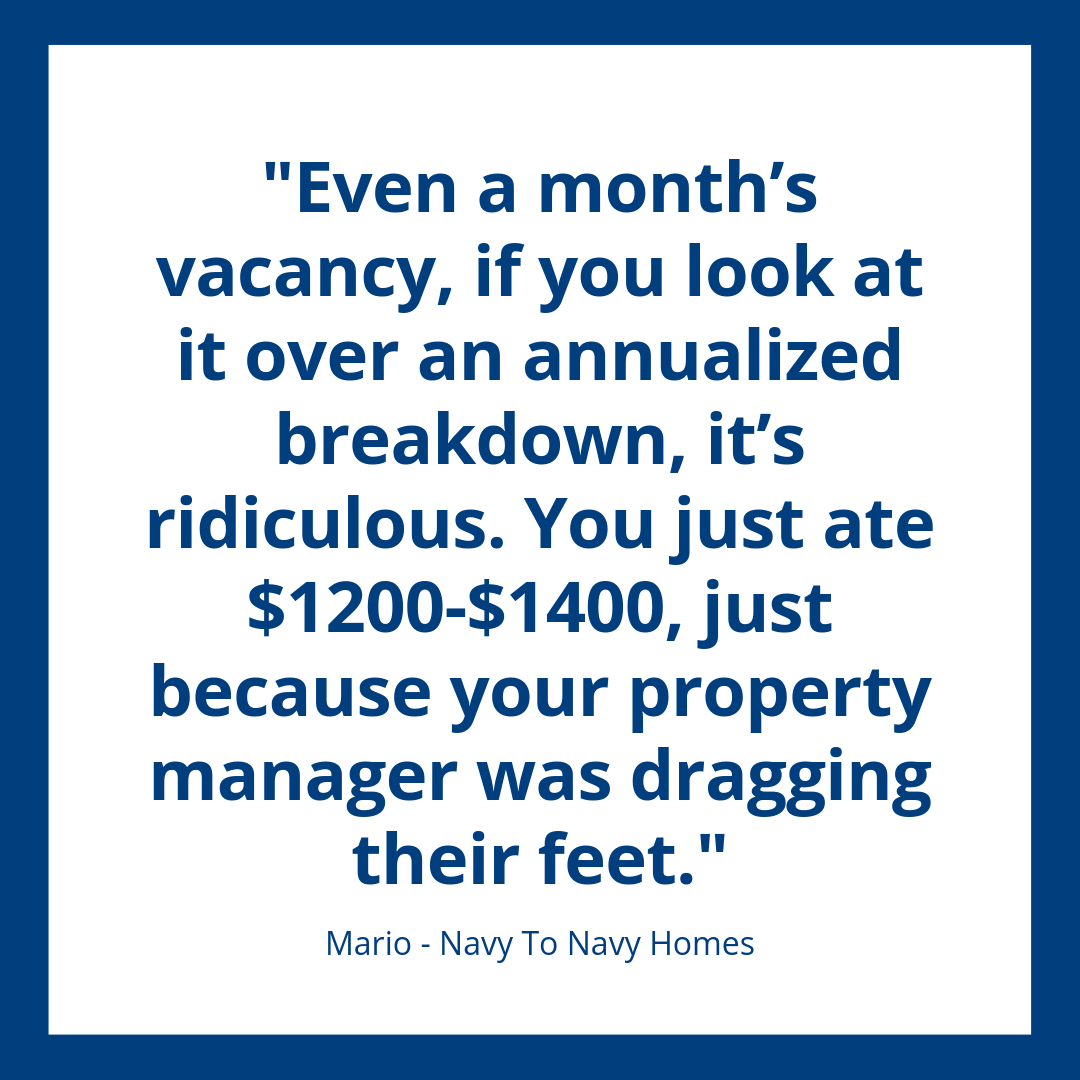 Time on the market
Scenario:
Going with the cheaper property manager or better yet, going DIY means so much money savings on marketing your home.
You know how to post a home for rent on Craigslist. What more could there be?
Not properly pricing your home could result in more than a single month on the market.
Are you prepared to pay the mortgage yourself because you think your home is worth more a month than the market will bear?
Estimated Costs:
1 Month lost rent $1200 (due to improper pricing strategy)
1-2 Hours Creating/Updating Online Listings.
1-2 hours Scoping/Detective Work- Checking out all potential tenants on all social media channels, background and credit checks.
$15-20 per application for credit and background checks and the time to collect and submit those forms. If we hit it out of the park the first time with our renter - $15.
Showings: Scheduling 1-3 hours (or more) to physically be on-site and let potential tenants tour the home.
Assuming your time is worth $20/hour, you're at $60-$140 in time costs + Application/Background Check Fees $15 + Lost Rent $1200
Total: $1275-1355
Drawbacks:
Just a small miss on the pricing of your rental by your property management company can cost you an average of 1.5 months of lost rent.
Do you know the most effective marketing outlet for your home? Having a team of professionals who are trained and have experience renting homes behind you will actually save you money.
They know what to say in an ad to attract the best people.

They have experience asking pre-qualifying questions so they don't run applications on people that are less than ideal (think back to the gator in the backyard)

They don't wait until your current renters are out to start marketing for the next ones.
Estimated Savings/Loss:
Fee from Navy to Navy to place a tenant: 75% of total rent
Using the $1250/month home example, you'd pay $937.
Assuming the above estimated costs, you're at around $1300 in costs to place your own tenant.
Total Savings/Loss: $363 LOSS
Oh, wait, it cost us again? I thought we were supposed to be saving money?
Solution:
Navy to Navy will pre-lease a home that is coming onto the market as much as 60 days in advance. The fewer days between renters the more money that stays in your pocket.
If you are looking for a cheap property management company that will leave you with repairs and less than ideal renters then go with the cheapest.
But if you want peace of mind, eviction protection, smooth transitions between renters and knowing that repairs are done quickly and efficiently without you digging up the pipes yourself then call Mario and his team at Navy To Navy Homes.
For alligators and extra people living in your garage, call someone else.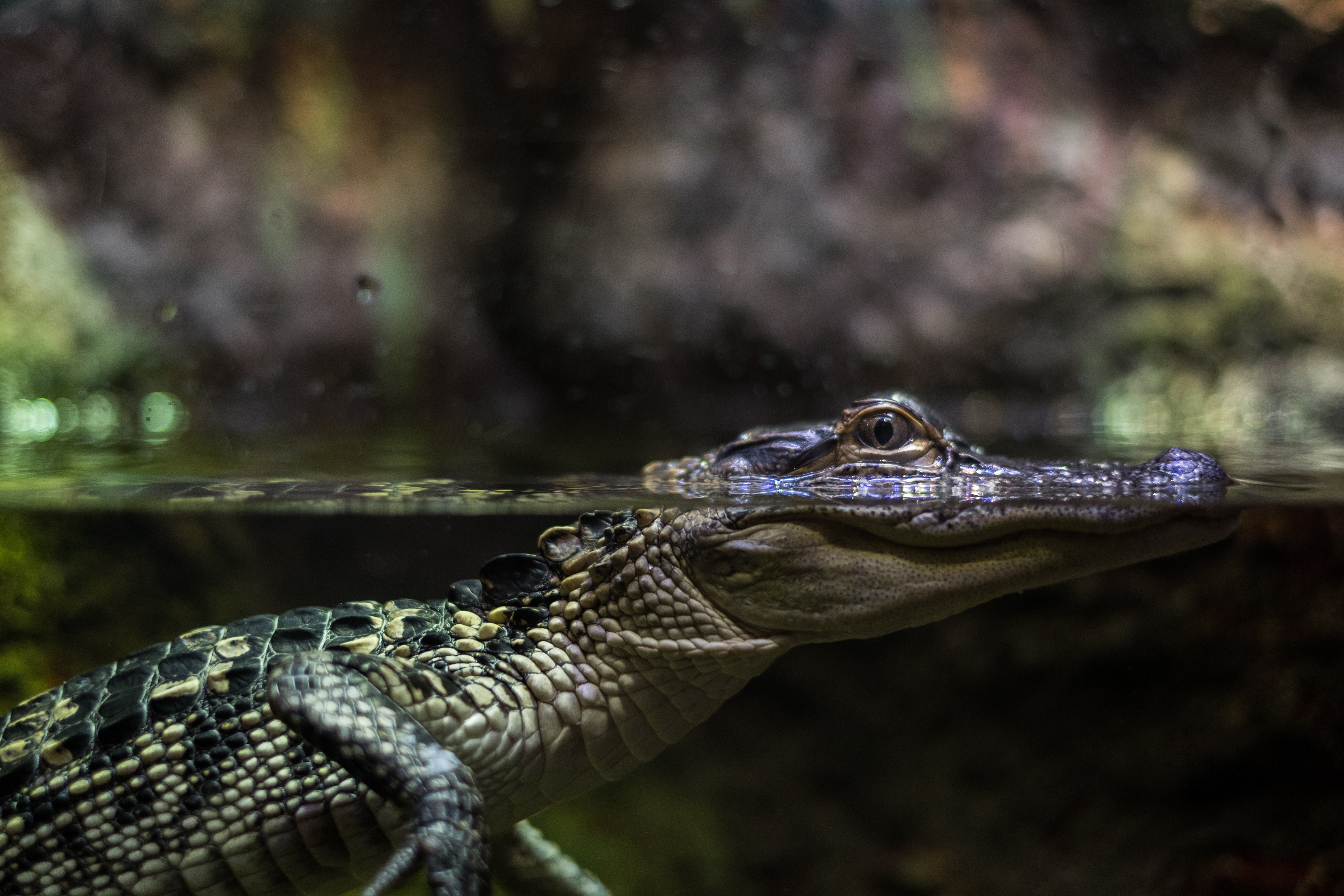 Photo by Lance Anderson on Unsplash