When you've got it, you've got it. And Durbin Crossing has it ALL.
You will be hard pressed to find a location anywhere that has been so thoughtfully developed, stayed on the cutting edge and is improving year by year.
There isn't a place with all of that and the benefit of Jacksonville beaches, Florida wildlife, and some of the best year-round weather in the country!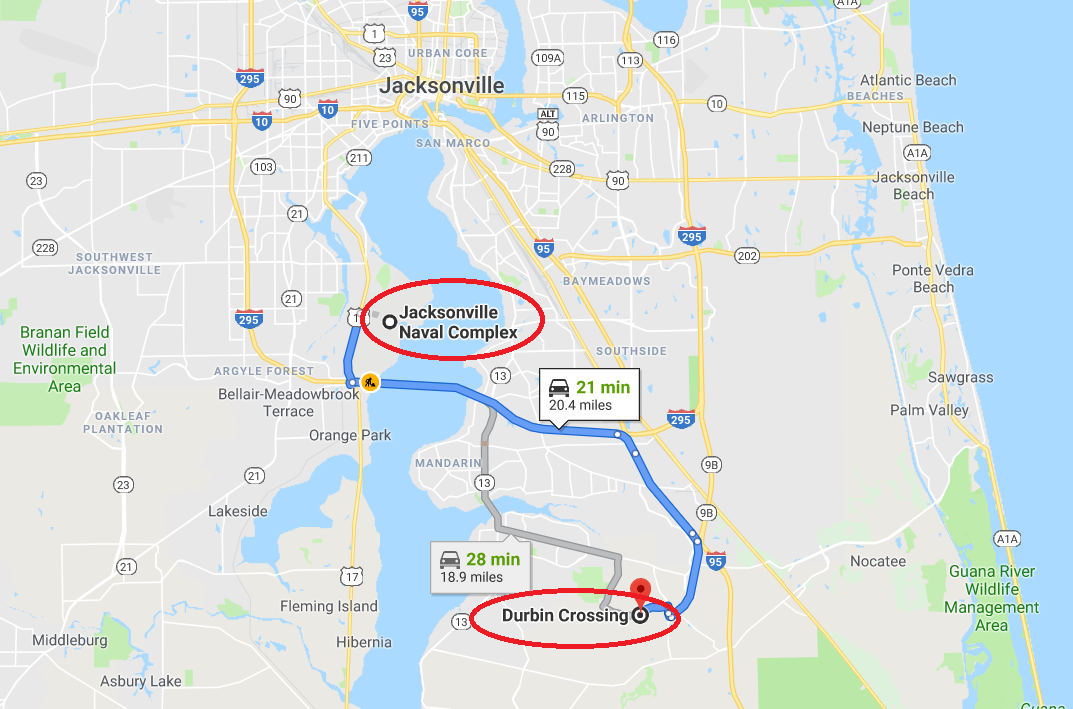 1. Location, location, location
The close proximity to the Jacksonville Naval Complex is not the only thing about Durbin Crossings location that makes it a wonderful location.
The 2000 acres of master-planned community is centrally located and has quick access to I-95. In less than 30 minutes you can be basking in the sun on the Jacksonville Beach Pier or at the Jacksonville Naval Complex.
You can have anything that JAX has to offer at the tip of your fingers or a short drive in Durbin Crossing. That's if decide to leave the community at all!!
To stay up to date, your potential buyers can even follow your community on Facebook!
How much easier can they make things?
2. Amenities
The only way to really get the full breadth of the luxurious selection of amenities it to see them in person.
But, if your home buyers are out of area, they can follow this link you can watch a video that will show them what is in store for them when living in Durbin Crossing.
Food Truck Fridays - When can I move in?

Outdoor movies - Free Family Fun!

A community center with things like Zumba classes, tennis and Chick-Fil-A nights

2 resort style pools and splash pads for the kids

19 miles of sidewalks

Lighted Tennis courts

Basketball and Volleyball courts

A gym that rivals most commercial fitness centers
With two master planned amenity centers, your potential buyers may want to move in sooner than you think!
Pools with waterslides and splash pads are excellent selling points to keep family members cool and refreshed during hot Jacksonville summer months.
3. Schools
With some of the best-rated schools in the area, Durbin Crossing is a great place for families. The school ratings are above average, with area schools rated 9 and 10 by GreatSchools.org.
(Military move? Not sure you want to sell? We can help. You can also rent out your property and come back to it in a few years, all while building equity. If you're interested in learning more about our property management services in Jacksonville, FL, make sure to grab your free rental analysis report.)
4. Shopping
As you know, Durbin has LOTS of shopping, with more to come. Make sure home buyers know about the world class shopping and retail stores, along with stores to service their daily needs, that can be found right in the area.
A quick trip to Walmart or Dunkin' Donuts is right around the corner, and there are a variety of restaurants to please even the pickiest of eaters.
5. Life on the wild side
Along with people watching, make sure to tell potential buyer about the wildlife!
The neighborhood was planned to preserve the area wildlife while giving the residents a place to feel at home in nature.
"Durbin Crossing encompasses over 2,000 unspoiled acres of thoroughly-planned neighborhoods, exciting recreational amenities, abundant preservation land and a convenient town center. Durbin Crossing is rich in the things families love most, from splash-happy pools, to action-packed playgrounds and playing fields. It's a place where your family can feel at home with nature and each other." - Durbin Community Master Planning Website
Many of the homes back up too a conservation area. Nature, literally, at the back door.
Occasionally, that view also comes with a view of a bobcat! We love telling buyers fun stories about the areas their considering to purchase a home in. This story about the Durbin Crossing bobcat sighting in 2017 is a favorite!
Whether your buyers are looking for 'the quiet life' or a little 'wild' life, both are available at Durbin Crossing!
6. More to come...
This is an emerging area with huge planned growth. The map below shows how the phases will be completed.
According to TheCoastal.com "Once completed, Durbin Park will feature the largest shopping center in Northeast Florida, with over two million square feet of retail space."
You can follow their link to see an up to date list of confirmed retailers coming to the area.
The Jacksonville Daily Record says, "Almost 20 retailers and restaurants, including Walmart and The Home Depot, are signed up for The Pavilion at Durbin Park in northern St. Johns County."
If you are a current resident or looking to start a life at Durbin Crossing then you can follow the Durbin Crossing Community Development District to be up to date on what is coming.
If you're considering selling your home in Durbin Crossing, or have orders to move, we'd like to help. As a local, community-oriented realtor, we take pride in staying up-to-date on amenities, selling points, and fun news to help you sell your home faster, for the best selling price.
Find out more and get your customized local market analysis here.
Navy to Navy Homes
4540 Southside Blvd, Suite 702
Jacksonville, FL 32216
904-900-4766