Marketing your Jacksonville home comes with the usual considerations for any rental. Being in a military town requires some other considerations. You can maximize your profits and keep your home filled with happy renters by including the information that will appeal to a military family.
Kids
According to www.VeteranAid.org "Service members are more likely to be married at a younger age and have young children at home compared with their civilian counterparts." Chances are better than not that your incoming renters will have children already or possibly one on the way if they are in the Navy. You can position your Jacksonville home as the one to rent by giving some thought to children in your marketing.
Does your house have a tree with a swing? Can you accommodate a tree house? The little things that appeal to a family could go a long way in keeping quality renters.
Knowing that many military families have children means that schools will be of the utmost importance. Highlighting if your home falls within a good district could be a strong determining factor in its appeal.
Parks and outdoor activities are a MUST for families who have children of all ages. Highlighting family-friendly things around your rental will help frame the lifestyle of your neighborhood.
Photo by Kaleb Kendall on Unsplash
Local Attractions
Giving a complete picture of the area your rental is located will help those renters searching online for homes. Good quality photos of the interior and exterior will paint a picture of what to expect. A virtual tour of your rental might clarify how the space flows and make it easier for people to imagine living in your space.
Don't forget the drone!! Areal footage is a great way to showcase the home and the entire local area. You might also consider a driving tour to show off your favorite places in the neighborhood. There are hundreds of houses for rent, you must set your home apart from the masses and make an impression to get the best renters.
Military families, who are coming from far away, will appreciate the help of navigating a new area. Some of the things that may be important to your future renters are libraries, coffee shops, gyms, Jacksonville beaches, shopping, and public transportation.
Adding a list or a map of local attractions that are within close proximity to your rental could make all of the difference when a decision is being made. If your area has bike trails or has the best coffee in JAX with in walking distance you should let potential renters know. You never know the value of those little things to a family coming from another area.
Base Proximity
A permanent change of station (PCS) is military jargon for "moving." This Military.com link explains the many ways to move with the military. As a landlord brushing up with how that works will help you better understand what your renters are about to face and how you can best help make that as smooth as possible.
Easy access to the base makes things easier on a military family adjusting to a new area (likely not their first move). If you are lucky enough to have a home for rent close to the base it WILL be a huge selling point for the right family.
A map marked with the location of your home and the Jacksonville Naval Complex is a helpful addition to your photos. Make sure you are zoomed in far enough to see the options for the commute and highlight the easiest route. It goes without saying, but make sure whatever image you use is clear and easy to read.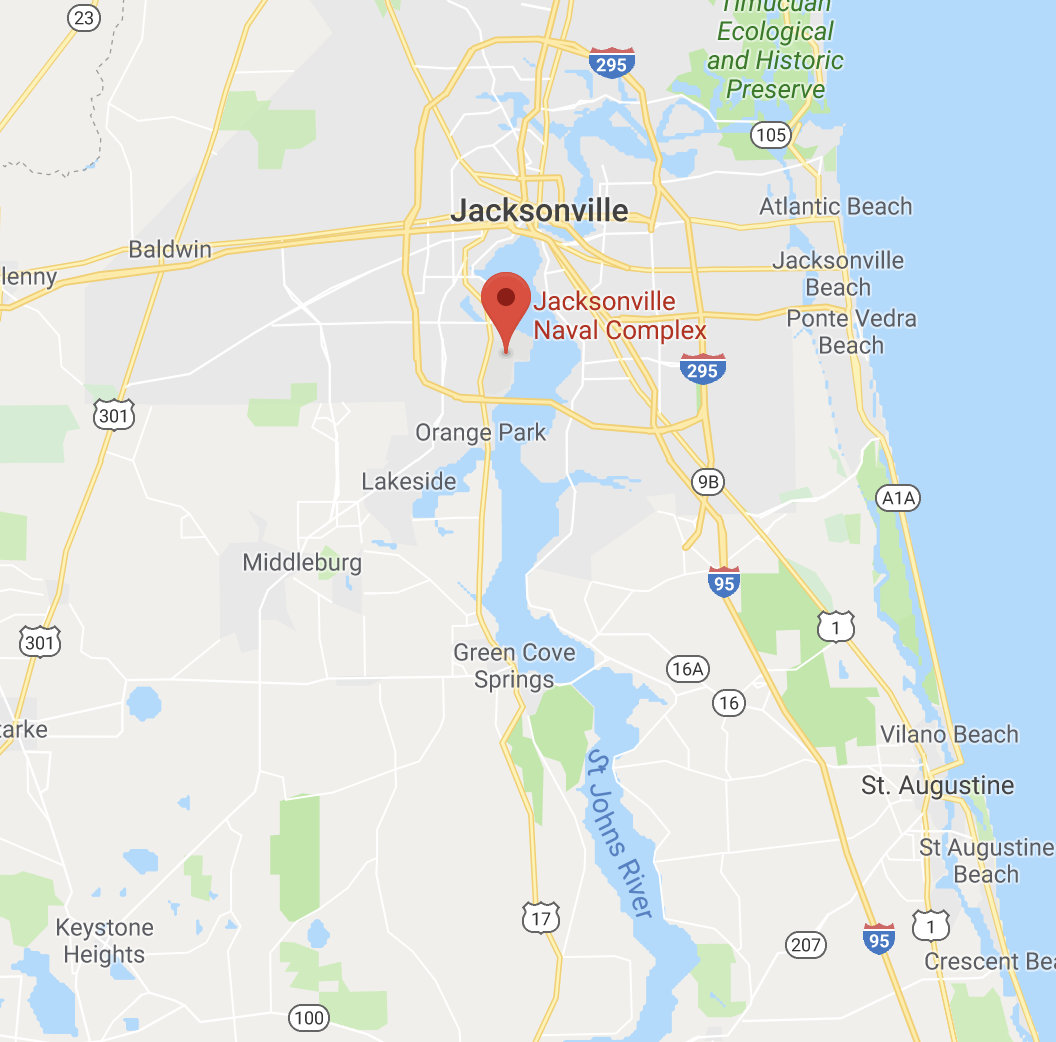 Keep it clean and simple
Have you considered having the lawn and pest services included in the rent? A neat, clean and well-maintained property that is easy to keep up with will take some of the stress off the renters. These are people who may not have things like lawn mowers and edgers. With the average deployment of 2.5 years, your new renters may be old pros at renting.
Having renters who are current or former military often gives you the security that they are used to following orders and keeping up with their space. Renting a home is not the same as keeping your rack in the barracks neat and your bed made, but the same principles apply.
Wood or tile floors and the ease of keeping them clean could be a bonus for a busy family or a wife left behind with children and an overseas spouse. Not having to mow the lawn could make for a happy spouse if they are holding down the fort alone.
Provide Safety and Local Statistics
Crime, noise, traffic - these will complete the picture of the neighborhood your rental is in. Some of the people looking at your home will never see it in person before signing a lease and heading to their new home. Giving them a sense of ease that they will be safe in a good neighborhood will increase your inquiries and get you the best possible candidates for your rental. If your home is in one of Jacksonville's best neighborhoods then make sure you highlight that in your listing.
Be Understanding
A family who is changing duty stations will have some stress, to say the least. They are often picking a home from out of the area and cannot afford the time or money to make a visit ahead of the move to see multiple listings.
You can appeal to renters by letting them know in your listing that you can accommodate online applications, virtual tours or just be open to a conversation about the rental. A brief conversation could make all of the difference when deciding between homes. Empathizing with their situation will help build a relationship with the right renters.
It might be against your policy to accept pets, but you might want to remain open-minded. Something that can add "normalcy" to a military family is a pet. If you can offer a case by case decision you might find it worth it to you as well to get the perfect renters.
Your renters may be moving from across the country or possibly the world. Having the home partially furnished or even some great built-ins could be extremely helpful. It is common in a military move to arrive without their belongings in tow. Waiting a week or more to get their belongings can be very stressful. A care package of essentials to get them by for a night or a few days will make a lasting impression. You forget how important toilet paper is until you reach the end of the roll.
Ready to Rent?
Keeping all of these things in perspective when getting ready to rent your home or hire a property manager will also keep things simple for you. Whether you decide to rent the home yourself or hire a property manager, you can rest assured that you will get the best renters if you take your time and really understand a military move. If you are unsure of what your rental is really worth a free comprehensive rental analysis will be a great help.
If you are moving out of the area on a military move yourself you might want to give serious consideration to hiring a property manager like Navy to Navy Homes who understand all of your needs as well as the needs of your new tenants.
Navy to Navy Homes
4540 Southside Blvd, Suite 702
Jacksonville, FL 32216
904-900-4766