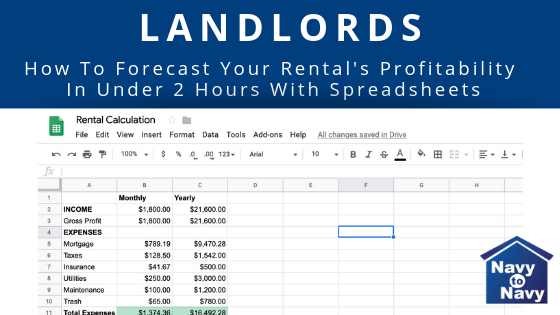 It is a wonderful time to live! With the touch of a button or a quick search, you can do or find instructions on how to DIY almost anything in less time than it takes to brew a cup of coffee.
Even forecasting the profitability of your Jacksonville, Florida rental can be done in under 2 hours.
A quick query will get you loads of resources on how to figure out the costs associated with having a rental property. In my search, I was able to find several free spreadsheet templates that will make estimating your profitability quickly and simple.
You can start simple or dive into a more complex form. Either way in just a short time you can figure out what the yearly cost will be to rent your home. I picked 2 examples and calculated the time it took to find, recreate and implement them. Adding 30 minutes of looking through a few websites and examples, we are well within 2 hours even in the more complex case.
Ex: 1
I was able to recreate this simple formula using Google Sheets in less than 30 minutes. I am no spreadsheet wizard. This included the time to google how to use the SUM formula to have to totals calculate for me. This is obviously a very simple solution and there could be many more variables not taken into account with this short list. The point is that even I was able to put together a quick formula in just a few minutes.
Here, is a link to a great tutorial that will cut your time searching for the formula instructions.
This example is a great way to get a quick look with the data you already know. These are fixed costs that will not change over the course of a year. If you are detail orientated and can use historical data from the past year of living in your home you will get a more complete picture.
Using the free download from Zillow included below you will be able to fill in all of your expenses and rely less on averages.
Ex. 2: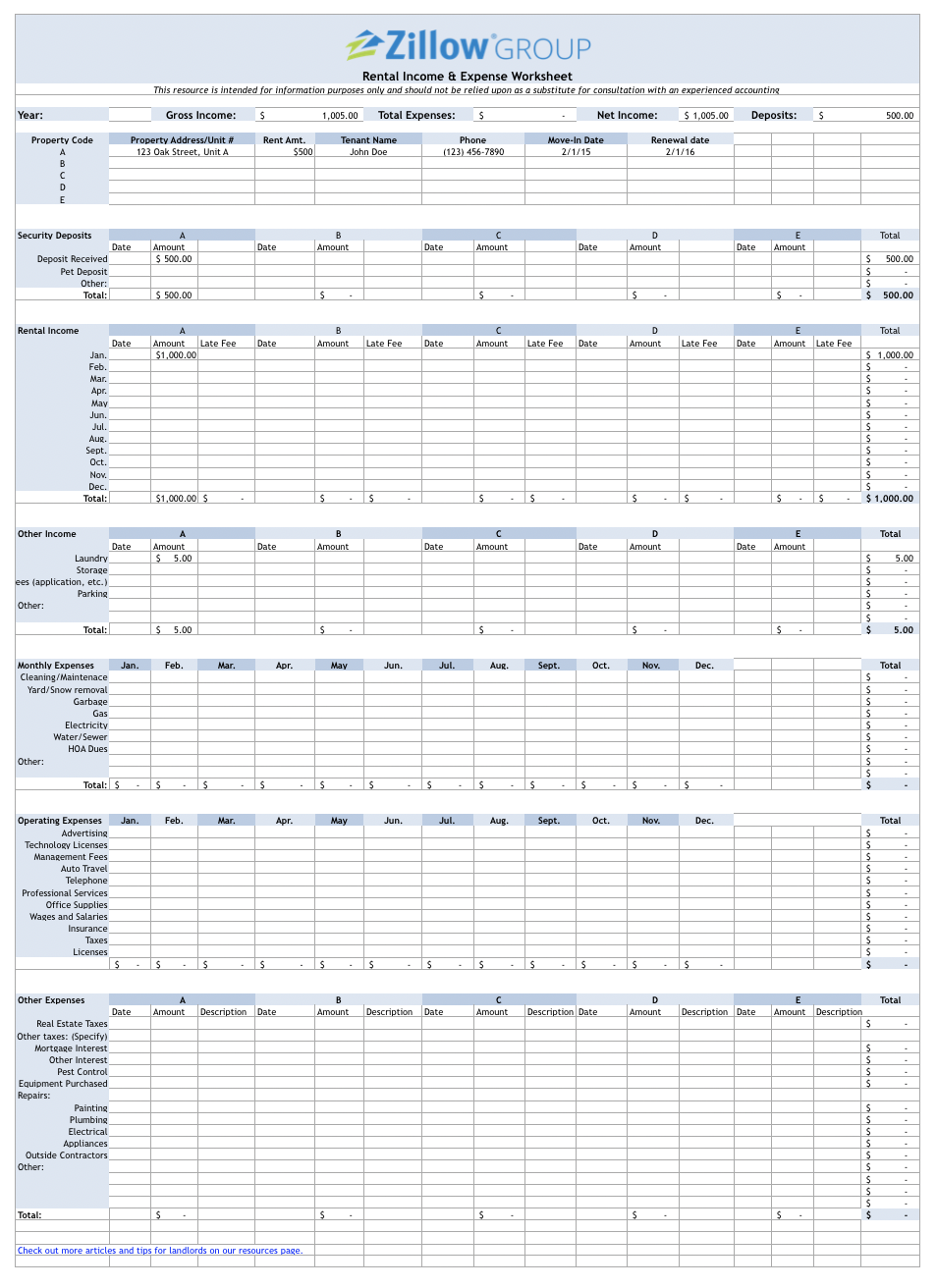 If you use a sheet like this one to track your rental expenses you will know after a year where you are saving and where you have room to improve your bottom line. This example also lets you track multiple properties.
Your first year the entries will likely be based on only the fixed costs you already know.
You know what you are spending now what?
Taking care of your rental is not just cash in and cash out. You have to consider your time too. Paula over at www.AffordAnything.com breaks that down brilliantly.
Income is one-third of the story

Expenses are another one-third.

And TIME is the most crucial detail — especially if the goal is to create a stream of passive income.
If your goal is passive, then your time is the biggest factor of the three. You can create systems, micromanage your details and eat up a lot of your precious time.
If you are giving up just 20 hours a month that can really add up financially. If we use a very conservative estimate of your time being worth $20 per hour, then you are looking at $400 in lost TIME each month. With a home renting at $1100 and 10% property management fee you could have paid someone else $110 to save you 20 hours. Personally, I would rather keep my time because it is way more than $400. Trading our time for money is rarely beneficial.
You could be looking at rentals as a passive income source or just a way to keep your home a year or two longer until your deployment is over. You having time will be a huge factor either way. If you want to scale and have several properties you will be multiplying the work you are doing each month. Do you really have time each month for even five times the work?
How does spending money maximize profits?
Having an in-depth rental analysis and appropriately pricing your rental will set you up to maximize the profit of your home.
Having a great property manager can expedite getting your listing filled with quality tenants and reduce time on the market. They can also track and provide documentation on how your rental is doing compared to others in the area. Having a team will create a buffer where someone else is putting out fires and only coming to your with the big stuff or a quick recap of what they already took care of.
Some months the only contact you may have with your property management company will be checking your bank balance for the rental deposit.
Get A Copy Of Your Personalized Property Analysis
If you'd like to get a personalized copy of your Property Analysis and learn about our Property Management services (in case you're not a spreadsheet person after all), click here.
Navy to Navy Homes
4540 Southside Blvd, Suite 702
Jacksonville, FL 32216
904-900-4766