So you got orders, maybe not for the first time. The clock is ticking until you move your family to another base, state, or maybe even country. This time is different; you really love this house. There may be a chance of orders here in the future. Possibly, you see yourself coming back here after you finish your time in the military altogether.
After some consideration and thought you have decided to keep the house and rent it out. Now the hard decision. Do you try and rent the house yourself before you go or do you hire someone to take that burden off you and watch over the home while you are gone? But do you really need a property manager to rent your house?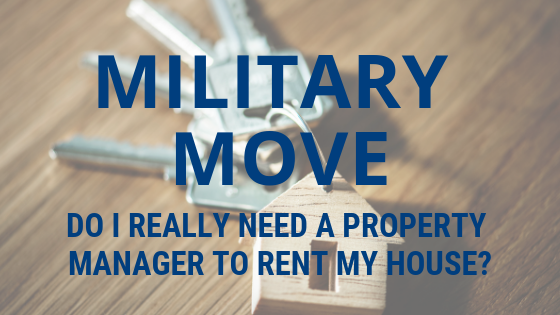 Considering A Property Management Service
If you are going to be deployed more than 12 months you will very likely need someone to fix a few things. Are you going to find a plumber or electrician from across the country in the middle of the night? A better question is, do you want to?
Who is going to look in and make sure that your yard is being maintained? You put time and many man hours into making it beautiful. Do you care if the flower beds are weeded while you are gone? Are you going to hire a company to take care of that before you leave? And how can you be sure they are doing what you want? There are so many things to consider.
Knowing that the rent is collected, tenants concerns are being met and the house is still standing can be worth a lot. You don't need the added stress of worrying about your home if you are deployed a few hundred miles away, or half a world away. No one solution is right for every homeowner.
Analyzing Property Manager Costs
Costs can be a concern for any homeowner. Everyone wants to keep more of their money.
When considering costs of using a property management service, it's also important to take into consider potential costs of not using a service.
According to Forbes.com there are a few items to consider before you take on renting your home yourself:
Do you have time to manage your home yourself?

How will you screen tenants from afar?

What will you do if there is a vacancy? How will you fill it?

What happens if you need to proceed with an eviction?
Let's review a few services a property management company offers.
Property Management Services and Benefits
Reduced Tenant Vacancy Periods & Tenant Screening Services
A good property manager will keep your tenants happy. By properly vetting and selecting you the best possible people for your home, you are more likely to keep a tenant long term. With the professional eye of someone who has likely reviewed hundreds if not thousands of applications, you get some extra piece of mind. Having a great, long-term, tenant can save you a lot of money in the long run.
Emergency Repair Services and Maintenance
How much time will you have to dedicate to your house? Depending on where you get deployed, there may not be time or the resources you will need to keep up with your home. There may not be a reliable way to reach you at all times. Depending on your orders, you could be unreachable for weeks. it could be weeks you are unreachable.
Easy Income via Deposited Funds
In a situation where your deployment is extended or you transfer somewhere else unexpectedly, you will have everything in place for your rental to stay leased and income still being deposited into your account. You may depend on that income to pay the mortgage on that home you love so much.
Professional Legal Jargon Navigator
A lease agreement can be complex, depending on the state laws and your own personal requests and policies (pet policies, yard maintenance policies, etc.). Sometimes, the "fine print" and legal terms of it all can be overwhelming. If fine print and specific terms are not something you enjoy or feel comfortable navigating yourself, a professional property manager can help.

Check out this definition of just the word "lease" from Investopedia. There are specific terms for each party, ways to refer to the property.


A lease is a contract outlining the terms under which one party agrees to rent property owned by another party. It guarantees the lessee, also known as the tenant, use of an asset and guarantees the lessor, the property owner or landlord, regular payments from the lessee for a specified number of months or years. Both the lessee and the lessor face consequences if they fail to uphold the terms of the contract.


There may also specific disclosures - lead paint disclosures, etc. - that may need to be added to a lease agreement to minimize legal recourse against the property owner.

A well-written Florida State Lease Agreement can be 10-14 pages long depending on what needs to be included.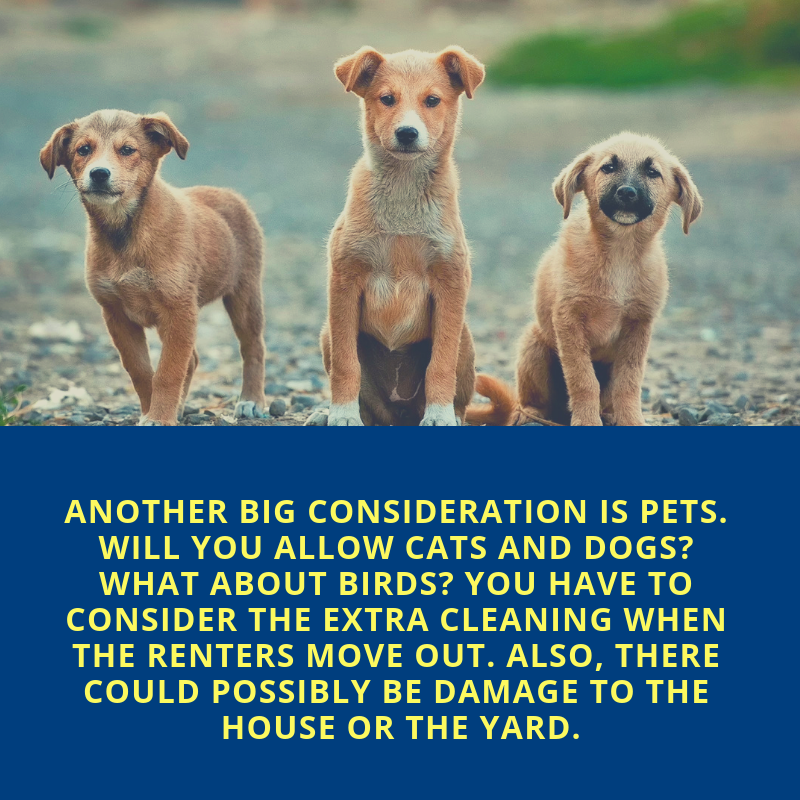 Pets and Pet Damage Policy Enforcement
Another big consideration is pets. Will you allow cats and dogs? What about birds?
Allowing pets can make your home more desirable, decrease tenant vacancy, increase tenant loyalty, and even attract better renters (sometimes - if you know what to look for).
But there are things that should be considered when leasing your home to pet owners. Two common considerations are move-out cleaning and property damage.
Extra cleaning.
There may be extra cleaning when the renters move out. Is this something you're prepared to handle yourself, or something you'd like someone else to take care of for you?
Property Damage.
There could be damage to the house or the yard. How will you recoup that cost? How do you have to word that in your lease agreement for it to be legally binding in your contract with your renters?
A property manager can source an excellent cleaning company for you to prepare your house for the next tenant, as well as contract out necessary repairs to keep your house in excellent condition.
Additional Lease Agreement Considerations
If you plan to manage the property yourself, but you are unsure what pieces you need in your agreement, you can refer to standardized, templated lease agreement, like the one here. But remember, these templated services may not always be up to date with state laws. Make sure that you have an attorney look it over to ensure it meets Florida statute standards and will hold up in court.

Military.com has a terrific list of additional items you may want to add to your lease agreement. You will want to address these issues in a clear and concise way, that leaves no room for misinterpretation.
List of tenants - Know who is living in your property, how many are in the family, and who is working to pay the rent.

Rules of behavior - Lay out the acceptable noise level, proper neighborly conduct and whether smoking is allowed in the home or on the property at all.

Pet policies - If you allow them, specify the deposits. Dogs? Cats? Proof of Pet Registration? Size?

Lease term - A month-to-month lease offers more flexibility if you're still trying to sell, while an annual lease provides more stability if you plan to hold on to the property. What will happen at the end of the lease? Will you renew for 1-year? 6-months? Month-to-month? Evict?

Security deposit - This is usually one month's rent or more. Knowing what the going rate in your area is will help you get good tenants.

Repairs - Detail who is responsible for what. Are you taking care of the yard maintenance or leaving a lawn mower for them to use. Do you include yard maintenance, using an outside service, in your monthly rent?
When To Consider Professional Property Management Services
Zillow says there are benefits to hiring a professional property manager. A property management team will take care of all the little details (like everything above) so that you don't have to.

You can enjoy the peace of mind that comes with knowing that someone else has it handled.

(Want more peace of mind? Check out our post: "Interview: How This Navy Family Reduced Stress and Saved Money Renting Their House".)

Summary Of Property Management Services
Someone else collects the rent and deposits it into your account.

If there is an emergency, someone is always local and available to answer the call and fix the issue no matter where you are in the world. No matter how simple or complex the emergency.

Tenants are vetted and leases are signed without you needing to be in the area. You can receive electronic copies to your email anywhere in the world.

A property manager will take care of the legal issues like holding the security deposit in an interest-free Escrow account per Florida laws.

You have someone who can and will keep up with the maintenance in your absence, allowing you some piece of mind that your home is in good condition.

In the event of an eviction, you will have someone to follow through all of the necessary steps required to get you free of a problem tenant.
Having the right team behind you and your home is important. You can try to do all of the work yourself, but with a team, you can rest easy that your investment is taken care of.
The first step is knowing how much your home will rent for. You can get your free rental analysis here. This in-depth report will give you information about your home and the Jacksonville, FL rental market, so that you can make the best decision for yourself and your family.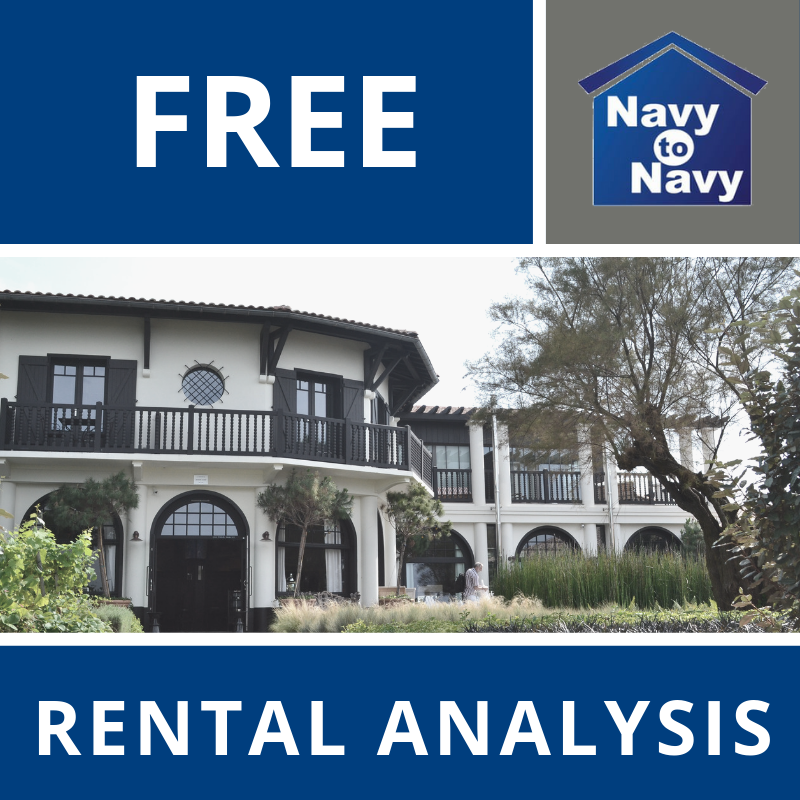 Navy to Navy Homes
4540 Southside Blvd, Suite 702
Jacksonville, FL 32216
904-900-4766